The San Francisco Shoot

We met a woman that Spencer dated in college by surprise in a bookstore. She was very opinionated about Spencer at that time. She basically told us how much of a jerk he was, but seemed to have liked him in spite of his bad behavior. She posed beautifully under the bridge. Our friend Dave also joined us on the Golden Gate, as well as Super Gigi, who we met at Burning Man, and Maya, Eden from Seattle's big sister. A lot of people call their friends and family to tell them they should pose and how they enjoyed the experience. I had a lovely morning talking to the models about their jobs and lives. I like this city - maybe I could live here.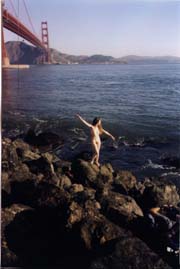 Driving through Sequoia National Park. First is the smell - fresh, new, vanilla and wood. We drove through the end of the strongest hurricane recorded in the history of the world, and I pranced and posed in the forest of giants. The largest living things on the Earth. I crawled into a tree by the side of the highway, hiding while traffic occasionally whizzes by.