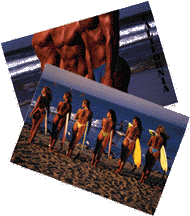 We are staying in Arlene's Venice Beach Bungalow. I like Venice. The beach is sort of trashed and there are St. Mark's-ish cheap stores selling luggage, t-shirts, jewelry, ugly 80's clothes. But behind that there is a charm and some artistic energy with little studios and galleries. I always like to be near the ocean. L.A. is a different way of life from New York.

We stop in a diner and have tacos. We chat a little with the woman who serves us. She asks us where we're from. We talk about our travels. When we leave, she pats us both on the arm and wishes us well. Right before we drive off, she runs out with 2 packs of gum for us. I tell her she should meet us in Mexico and she gave us the gum.
I met a friend of Spencer's - Michelle, an actress. Very friendly with an open aura. She and some of her gorgeous friends came out to pose in Spencer's L.A. shoot. It was done in front of the Griffith Observatory.
L.A. was overall a strange trip. I know L.A. is definitely not for me. There are too many malls and parking dilemmas. Although I could feel the same sense of unexpectedness - the anything could happen tonight feeling characteristic of big cities, here in L.A. you have to get in your car, drive on the highway, and find parking first.