June, 1997
Spencer writes...

So here we are in Hawaii on our way to fulfilling our dreams of photographing the human form in each of our 50 states. I'm traveling with my girlfriend Kristin.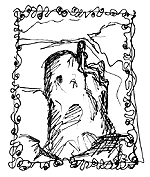 Kristin is my:
girlfriend
earthgoddess
model
artist
designer
moon child
storyteller
lover
risk taker
wild boar
assistant
friend.
I couldn't have enjoyed this trip more with anyone else. If you met Kristin, you would know what I mean. She's just the type of person that has this glow around her and everyone and everything absorbs the glow. The next thing you know you're pumped up and positive, like a cup of Kona Coffee.


The Beginning - New York
Two days before our departure date, we got the phone call that would change everything.
"Dude something came up with my job, I can't go, call me, Gabe."
-click-
My heart sank, my friend bailed on us. Gabe's father was giving him a vacation in Hawaii for his 30th birthday and was supposed to pay for hotel rooms on both Maui and the Big Island. Gabe was going to let us (me and Kristin) stay with him. This would have been Gabe's gift to the tour. To save money for the Naked States, I would sleep on the floor with a blanket, no problem.
Now with two days to go, we were stuck. We decided to just wing it, rent a car and hop from hostel to hotel, cheap hotel to cheap motel, or sleep in the car if we had to. Kristin's friend, Jim heard of our dilemma and said he had friends in Maui that could maybe help us out. We crossed our fingers and it turned out that they were into our Naked States tour and into its vibe and our need for assistance, so we had a place to stay.
Yes! Our first host.
The new plan turned out to be the most amazing way to travel. No links to a big fancy dull hotel, just gas, a map, and a lot of bugspray!
More than ever I knew our trip would be more real, more honest, and more of an adventure.