We drive into town around 10 pm. I'm fast asleep in the bed in back of the van. I'm so tired tonight. I'm lying nude in this soft, rolling capsule. We stop. Spencer tells me to look out the window. Outside I see the fence around the site of the Oklahoma City bombing. It is a chain link fence that is covered with the memorials and remembrances that visitors have left behind: flowers, t-shirts, notes, signs, toys, stuffed animals, dolls, a bike... It is an amazingly big and empty space. It is a shock to see this spot after so much media coverage.
This city is completely deserted this time of night. Spencer drives slowly around the site about five times. It is so unbelievable and very sad. We park not too far and Spencer crawls in back to sleep too. The next morning we awaken and drive around the city. It seems a little bit too difficult to find models here so we decide to drive to Tulsa.

We found models on Cherry Street. A couple of people looked at us a little warily and others warmed up to the idea slowly. We did have one of our most dramatically outrageous locations here: the giant praying hands in front of the Oral Roberts University. God told him to build a University.


Spencer is a little nervous about this shoot, but I'm getting pretty relaxed about it all. I just believe whole-heartedly that we are taking great pains so as not to offend anyone. If we really wanted to confront the Religious Right- how easy that would be.

The 2 models that were scheduled to pose at the "hands" were pre-law students and had looked up what the penalty for indecent exposure would be for Oklahoma. Turns out it is a felony punishable with 30 days to 10 years prison term. They don't feel as comfortable posing with Oral's hands anymore but luckily 8 more models showed up so we had options. We all drive over to the "hands". Spencer decides to go in one of the model's cars and leave the van so as to remain more inconspicuous.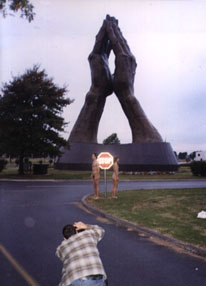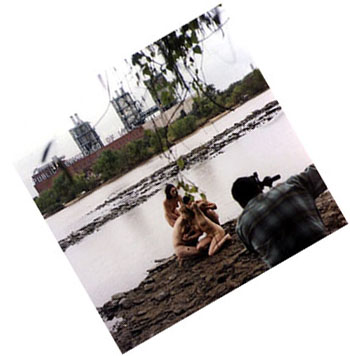 We parked in the lot and walked over with the two models. There is a police car parked across the street directing traffic so we are forced to shoot from behind. We wait for the opportune moment-- no cars, no passerbyers, and Spencer says "ok, quick, hurry". He shoots 6 frames and they're back scrambling for clothes and tangling in pants and socks etc. Great shoot, no problems. Next location!