Mt. Rushmore, Black Hills

Finally we are in the woods. Spencer and I found a campsite next to a lake-- swimming and some pot we shared with a neighbor. We organize and catch up on painting. This area is evergreens on hills-- mountain rocks jutting out of green soft rolling roads through mountains. White mountain goats jump down the rock faces to eat the grass on the side of the road. They are not shy of cars. Spencer asked a couple from Minnesota at the campground to pose. They thought about it and came over to our site to say they would.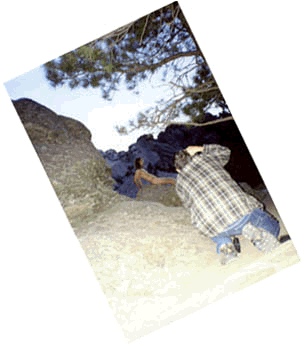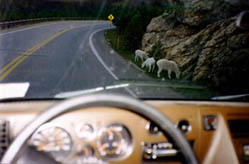 Mt. Rushmore Shot.

Easy. No one around. Chilly morning. Sunrise. Spencer is happy to be able to go into a National Government Monument and work with the nude around it with no problems. We had a fun relaxing morning with Annette and Kay. The parking lot overwhelms this place. So patriotic and so typical-- under construction. MAke it bigger, better and light it up at night with lasers.